Heat Friendly Clip In Bangs Hairpiece
You can look amazing in these easy to wear blunt cut clip in bangs. The are heat friendly so you can add a little under bump curl or wear straight.

Attachment: Clip-In
Length: 6 inches
Delivery within 8-16 days
Customer Reviews
10/28/2019
Loving my Clip in Bangs
Cool bangs, very thick and I am pleased to use them once in awhile when I want to change up my look.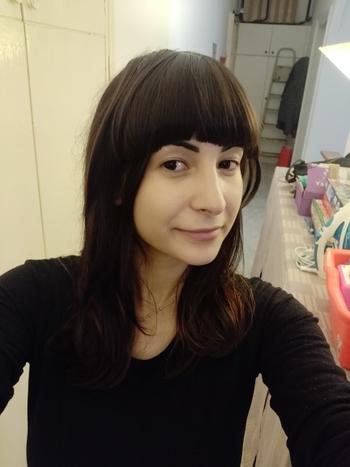 10/22/2019
Easy bangs to wear
For the price, I am okay with my bangs but they looked kind of shiny and fake. When I washed them and dusted with dry shampoo, they looked more realistic.
09/22/2019
I wanted to try hair bangs
Basically these bangs look like on the photo. They look artificial at first but if you work with them by adding a hair band or washing them first, and blending in more then they could totally work out. I will use mine for a night out or wear under a hat once in awhile but I would not recommend for everyday use.
09/08/2019
Hair Bangs Online
I like these bangs and they help cover discolourations on my forehead.
Are these human hair.

No. This one is heat friendly synthetic fibre.
Please visit Hairpieces = Bangs to view other bangs including human hair ones. Thank you

can the bangs attach to a hat i have chemo therapy and would like to click the bangs to a hat . I just ordered the hat with hair this morning and am looking forward to getting it .Also do you send me a email that says you received my order . Thank you

The bangs are designed to be attached to your own hair however, with tape or clips, it would be possible to attach to a head scarf or wrap if you so choose.